St Maarten/St Martin
Groceries
There are small groceries all over the island. These are larger supermarkets or very good gourmet shops.
The photo on the left is above was the cheese showcase at Match (no longer with us, eventually replaced by Super U). The Simply Markets have cheese cases much like this. The next photo is the entrance to Sunny, on the outskirts of Pburg. They have pretty good prices on vegetables. The photo on the right is the entrance to Simply on the Marigot side of the French bridge. It used to be US Import/Export, then US Market, and now it is simply Simply. Their new store in the Hope Estate area outside of Grand Case is probably the finest grocery store on the island. The Grand Marchés on the Dutch side are also newer and come close to matching Simply's selection. It probably is cheaper to purchase groceries on the Dutch side, but it makes little difference if you are buying French produce and cheeses. The Gourmet Marchés are stripped down versions of the Grand Marchés, something like convenience stores with convenience store pricing. Super U on the eastern side of Marigot has a great supply of frozen food, notably vegetables and fish.
We have searched far and wide for coffee beans on the island. Cost-U-Less frequently has some, but it is an ever-changing brand. We really like the San Francisco brand. Super U has their own brand of French Roast beans which is pretty good.

An example of illegal cheese in the US.
Come on down and try some today!

The most expensive spice in the world: Saffron.
Available at Guichard in La Savane.
Precede the seven digit Dutch side phone numbers with 1 721 to call from the US.
Precede the six digit French side phone numbers with 011 590 590 to call from the US.
| | | |
| --- | --- | --- |
| Name | Phone | Location |
| Skipjack's Fish Market | 544-2313 | Airport Road, Simpson Bay |
| Epicerie de Marie | 87 22 89 | Marigot (near Howell Center) |
| German Gourmet | 690 88 41 42 | Marina Royale |
| Gourmet Marché | 546 4888 | Cupecoy |
| Carrefour | 544 3188 | Cole Bay |
| Grand Marché | 542 4400 | Philipsburg |
| Maho Market | ? | Maho Plaza |
| Monop | 87 90 40 | Nettle Bay |
| Sangs | 542 0115 | Philipsburg |
| Simply | &nbsp | Grand Case |
| Simply | 87 03 80 | Sandy Ground |
| Super U | 29 54 32 | Howell Center, Marigot |
Island Grocery Stores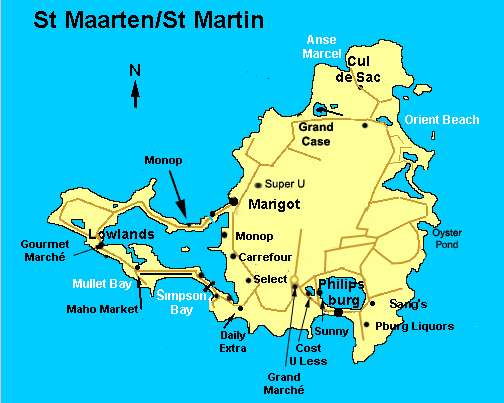 Marigot Grocery Stores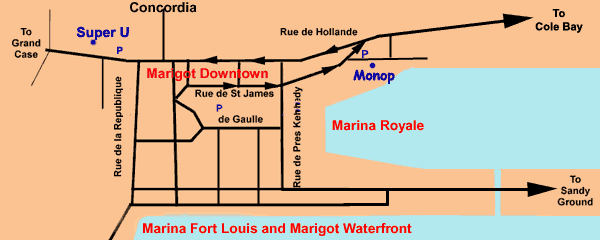 Opening hours for some markets:
(subject to change)
Cost-U-Less...Mo-Sa 9:00am-9:00pm & Su 9:00am-3:00pm
Le Grande Marché...Mo-Sa 8:00am-8:00pm & Su 9:00am-6:00pm
French Side
Simply (in Marigot)...Mo-Su 8:00am-10:00pm
Super U hrs
Monday: 08h00 to 19h30
Tuesday: 08h00 to 19h30
Wednesday: 08h00 to 19h30
Thursday: 08h00 to 19h30
Friday: 08h00 to 19h30
Saturday: 08h00 to 19h30
Sunday: 09h00 to 13h00 – 16h00 to 19h00

| | |
| --- | --- |
| The Gourmet Food Store has a about 40 cheeses in stock including many of my favorites from the island: Chaumes, Roquefort, Pont L'Eveque, and Reblochon. They also have duck products including several approaches to foie gras and prepared products. They offer flat rate shipping on orders over $50. | |
| | |
| --- | --- |
| | The photo on the left may be one of the reasons that Food Center in Philipsburg is now out of business. Another reason is that this photo had a "We" photo-shopped at the top of the writing on the door for several years. We have received an email from a PR consultant to the Lido Food Group claiming this was misleading. It appears things have gotten so bad that someone (at least their PR consultant) fears that people can be misled into believing they are butchering employees. SXM-Info would like state that we do not believe that the now-defunct Food Center butchered their employees. Moreover, we are fairly sure it was against company practice. Nonetheless, posting a sign that uses the imperative to state "Only butcher employees" is almost as funny as a declarative sentence stating "We only butcher employees." |

SXM-Info | Activities | Beaches | Cars | Casinos
Hotels | Real estate | Restaurants | Services | Shopping